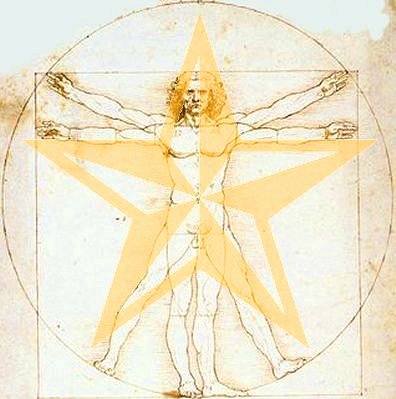 The Five-Pointed Star
- or - The Four Universal Human Movements
ANTI-STRESS BENEFITS
Hanna Somatics Gold™
by Lawrence Gold
If you do things thoroughly and want the most out of what you do, this program teaches you to do that with somatic exercises.
This program is a "keystone" -- meaning that with it, you put yourself together from core to periphery in a series of intricate and elegant exercises that nearly instantly magnify your strength, free your flexibility, and enhance any somatic exercises or activities done before or after.
EMOTIONALLY CALMING AND CENTERING
AUDIO COMPACT DISCS (2) $47.00
SPECIAL WITH-PURCHASE PRICE (38% DISCOUNT) : $29.05 (Item #221)

DOWNLOAD $29.05
SPECIAL WITH-PURCHASE PRICE (38% DISCOUNT) : 17.95 (Item #221)

additional effect: emotionally calming and centering. Those who meditate after a session of The Five-Pointed Star notice an enhanced capacity to witness mind, emotions, and body from a neutral, centered space.
To do this sequence, you need to be fairly supple, already. The Cat Stretch program is good preparation.
Deeper Lovemaking
Move Freely, Enhance Your Sensuality, and Prolong Your Intimate Occasions
Hanna Somatics Gold™

by Lorenzo Gold

ILLUSTRATED IN COLOR
Would you like to enhance your intimate lovemaking occasions with your lover? This program teaches ways to open you both into deeper union at physical and emotional levels. More than about positions, this program is about inner and outer dimensions of attention in lovemaking.
OUTSIDE THE U.S.A. click here.
e-BOOK/CD SET: 28% off $69.96 $43.24 (Item #222) BEST VALUE
CD SET (only): 38% discount $47.69 $29.47 (Item #215)
e-BOOK (only): 38% discount $30.96 $19.13 (Item #112)